The Southwest Virginia Museum Collection as a Family Loft | New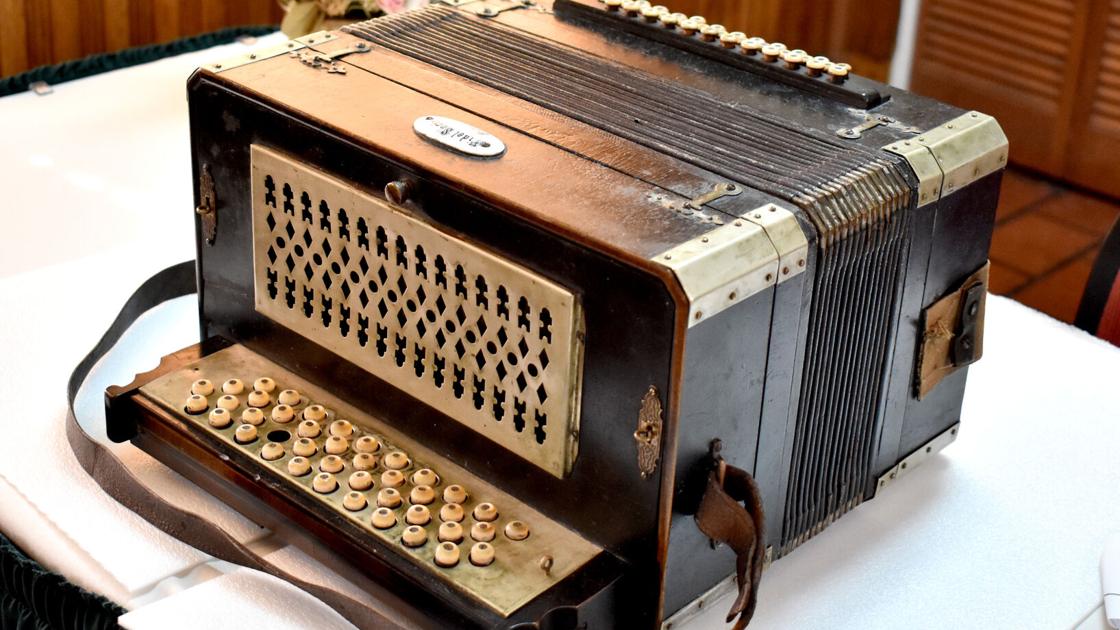 By MIKE STILL
BIG STONE GAP – Romano Danelon came to Ellis Island from Italy in 1900 with his possessions, including an accordion.
Danelon played this 1890 Fidel Socin on a passenger ship bound for the United States as it sailed through Pennsylvania and West Virginia to Big Stone Gap. He played it by becoming a mason and stonemason, becoming Rome Fred Daniel, enlisting in the army and raising a family.
Southwest Virginia Museum Collections Director Martha Wiley said the accordion, like the roughly 60,000 other items in the museum's collection, carries a story within the larger Southwestern saga. western Virginia. Preserving it, along with the wood, brass, mother-of-pearl and leather worn by Daniel's hands, is also part of what museum staff and specialists across the state are doing to make these objects last for future generations. .
"We also have a photo of (Daniel) playing, and we wanted to keep that human touch," Wiley said of how a preservation specialist worked to stabilize the accordion's condition. "His nephew dropped a CD of Mr. Daniel playing and singing."
Wiley said the museum – originally the home of Coal Baron Rufus Ayers in the late 1800s and acquired by Congressman C. Bascom Slemp in the early 1900s – also had a connection to Daniel, who worked on certain parts of the house.
The implementation of a computerized cataloging system for museum collections was completed in 2018, Wiley said, and the system contains descriptions of items ranging from old household papers and Slemp's correspondence with U.S. and world leaders. household and farm tools, mining equipment, oriental ceramics, period clothing, rare books and an 1870s railway sleeping car.
However, keeping an accurate and up-to-date list of the museum's inventory is not the only part of maintaining the collection, Wiley said.
"One of the things we do to keep things intact and preserved is a lot of atmospheric checks," said Wiley, appointing one of the museum's seven hydrothermographs to track temperature and relative humidity.
"We try to keep the humidity around 50% because we have a wide variety of items," Wiley said. "We have paper which, if the humidity is too low, it becomes brittle, and wood, if it rises too high, it swells. We also try to keep the temperature around 68-70 degrees to make it comfortable for visitors.
Light can also tarnish or deteriorate papers, photographs, clothing and other items, and Wiley pointed to the ultraviolet light filters mounted in museum windows. Room lighting is also kept at appropriate levels, she added, and color maps are placed in various areas to measure light discoloration.
Wiley said the special cleaning procedures for some exhibits require careful brushing and vacuuming, while many are kept in glass cases to prevent visitors from touching them.
Clothing and documents are stored in acid-free boxes and files, Wiley said, and acid-free tissue paper is used to retain the shape of clothing or hats. Staff do not touch objects with their bare hands, she added; nitrile gloves such as those used by medical personnel or police investigators are the rule.
Wiley said many items in the collection reflect Victorian-era ideas about death and how the dead are to be remembered.
"One of the things the Victorians did was keep the hair of the dead," Wiley said as he unwrapped a find. "A woman went to a real estate sale and bought what she thought was just a coffee maker in a box. She got home and there was also a wallet full of receipts from a Valentine Miller, who lived from 1820s to 1888s in Russell County, and you could tell her whole life from that.
Wiley opened the package to show one of the items from Miller's wallet: a crown of hair with a satin ribbon sewn onto a piece of fabric.
Civil War military uniforms and gear make up a large part of the museum's collection, Wiley said, and a series of exhibits on the centenary of the end of World War I included an aluminum matchbox bearing the name RF McConnell and his unit engraved on one side and a reference to one of the most violent campaigns involving American troops: Verdun, Argonne 1918.
The museum has participated in the annual events of Virginia State Parks where the department recognizes its 10 most endangered artifacts or collections. In 2018, Daniel's accordion won this recognition and a monetary award for its preservation. In 2020, the Museum's Jessie Reasor Zander Collection of Documents and Photos of African American Life in Wise County received another award.
Wiley showed one of the items in the Zander Collection: a 1950 Bland High School yearbook from when the county schools were separated.
Handling hazardous materials can be part of the collection, Wiley said.
"We have some cool old doctor's cases, but they're full of vials," Wiley said, "and maybe someday that's something I can get a grant for. We have a WWI gas mask, and I read that they have asbestos in the liner. This is not a real problem though, as the only people who have access to it are me, the park superintendent and some of the staff, but not the public.
Perhaps the most important piece of the museum in Southwest Virginia is the Interstate Railroad car on the museum grounds. Wiley said the 1870s sleeper car had struggled for the next 150 years. It was once a fisherman's hut and eventually settled at the entrance to the town as a visitor center before the museum acquired it a few years ago.
With the help of local railroad historian Ron Flanary, Wiley said, the old coal-wheeled trucks the car was mounted on were replaced with more precise trucks. Progress was made in restoring the interior closer to its 1870s configuration.
"You watch old railroad movies back then, and it amazes me how tiny the cabins are," Wiley said.
Museum and park director Scott Bowen said the interior of the car was not open for public viewing due to various delicate items inside, but it has become a popular backdrop for weddings and community events.
While the museum depended on the public for much of its collection, Bowen said Virginia State Parks no longer accepts donations of items due to the state's COVID-19 protocols.
"We ask people to keep us in mind and contact us next year," Bowen added.
For more information on park hours, admission, and seasonal events, visit online at www.dcr.virginia.gov/state-parks/southwest-virginia-museum or call ( 276) -523-1322.